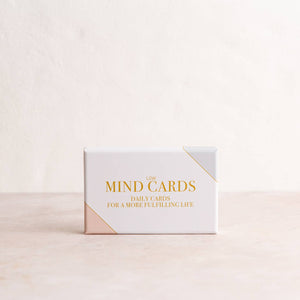 Wellbeing Cards
Sale price Price $ 14.71 Regular price
We've partnered with LSW to give you a collection of cards to help you own your journey to feel Better Today.  Don't know what work you need to do for your self-care?  First, you can use The Reflect 4.
The Reflect 4 Brushed Gold Plated Metal Card - A Reminder of the Reflect 4.  Answer these questions anytime during the day.  Take the card with you wherever you go.  This is how you focus on your Beliefs, Thinking, Feelings, and Actions.  Those Actions give you your Results in life.

Card dimensions = 85*54*0.3mm or 3.3*2.1*0.01 inches
If you need to change things up, shuffle the LSW Mind Cards.
LSW Mind Cards: Daily Wellbeing Cards, Self Care, Mindfulness
Lsw mind cards are designed to help you to become more mindful of your thoughts and feelings and give you the tools needed to take control of your happiness, focus on the present and spread positivity throughout your life.
By introducing positive habits into your every day, mind cards will give you the power to create the healthiest and happiest life for you.
How to use: each day select a card at random and take the action stated on the card. What you get:

 45 individually designed cards presented in a beautiful lidded box. The cards are split across the following 5 categories:

Categories: - Ritual - Gratitude 

- journal - Reflection - Kindness
Dimensions: 4.3″ x 2.8″ x 0.8″ (11 x 7 x 2.1 cm)