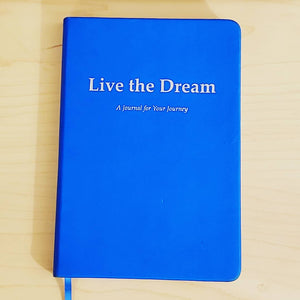 Live the Dream Journal
Sale price Price $ 6.19 Regular price
     The Live the Dream Journal is a special tool to help you along this journey called life.  The purpose of the journal is always remind you of what is important.  You choose what you write in it.  There is a suggested practice to follow but you should write whatever you decide.
     However, no matter what you write you will be reminded of what you should Believe, Think, Feel and Act before you write.  That inspiration will set in motion great things for your life.  You will never go wrong when decide to pull out this journal and write.  You will gain your value back tenfold because you will be one step closer to living your dream.
Style: Hardcover
Size: A5 5.75" * 8.25"
PU Leather Cover
Ribbon Bookmark
192 pages
The creation of this journal was inspired by my experience following the process in the wonderful book, The Magic, by Rhonda Byrne. 
Want to give the journal as a gift? Choose the personalized video option and send us the name you want added to the video.  We will email you a link to the video you can share with the gift recipient.