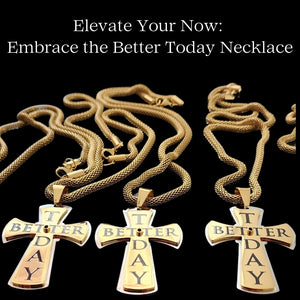 The Better Today Experience
Sale price Price $ 63.12 Regular price
Introducing The Better Today Experience - the perfect way to connect with your inner strength and elevate your life. This experience includes a stunning necklace that serves as a constant reminder of the power you hold within yourself to feel better today. The accompanying contract is a tangible symbol of your commitment to personal growth, while the card provides inspiration and guidance on your journey. With this experience, you'll be equipped with the tools you need to tap into your full potential and live your best life. Whether you're looking for a meaningful gift or a personal reminder of your inner strength, The Better Today Experience is the perfect choice. Get yours today and start your journey towards a happier, more fulfilling life.
Stainless Steel Better Today Necklace - 55cm (22 inch) necklace.  Pendant 40.5cm x 6cm, 2mm thickness
Printed Paper Contract ready for your signature.
Gold brushed metal Reflect 4 card with The Reflect 4 Questions.  Answer the questions every day.  - 85.5 x 54mm, 0.3mm thickness